The Wall Street Journal:  "The Israeli army expands its ground operations in the Gaza Strip amid intensifying airstrikes."
Views expressed in this geopolitical news update are those of the reporters and correspondents.
Accessed on 27 October 2023, 2300 UTC.
Content provided by email subscription to "The Wall Street Journal."
Please click link or scroll down to read your selections.  Thanks for joining us today.
Sponsored by

Good afternoon. Here's what you should know today, Oct. 27:
FTX's Sam Bankman-Fried made his case to jurors
GM and UAW moved closer to a tentative labor contract
Living in Salem, Mass., is not wicked fun around Halloween
Thanks for reading What's News! Look for the 
 to enjoy a free article on us—and share the link with a friend (or forward the whole newsletter!).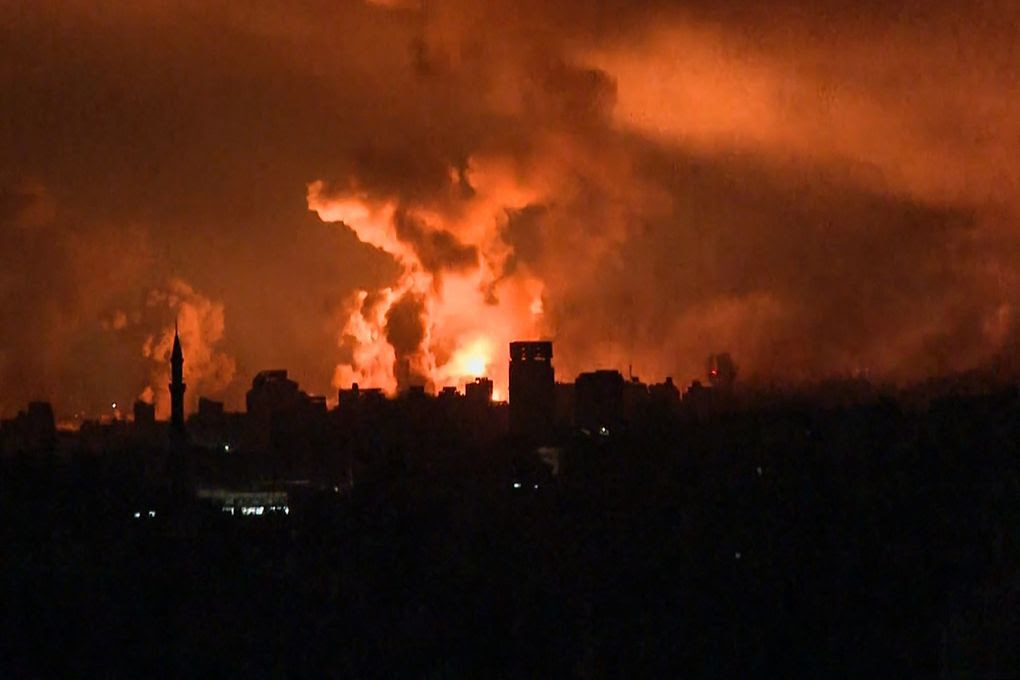 Fire and smoke rose above Gaza City as Israel carried out airstrikes on Friday.

PHOTO: AGENCE FRANCE-PRESSE/GETTY IMAGES
1. The Israeli army expanded its ground operations in the Gaza Strip amid intensifying airstrikes.
A spokesman for the Israel Defense Forces again urged Palestinians to leave the northern part of the enclave, including Gaza City, to head south. He said jet fighters were hitting tunnels in Gaza from the air. The expanded operations were the clearest indication yet that the Israeli military is poised to send in foot soldiers for the next phase of its military campaign (
 read for free). The U.N. agency for Palestinian refugees said that basic services were crumbling, medicine was running out, food and water were scarce, and sewage had begun overflowing on the streets of Gaza. Hospitals fear they will have to turn away patients and unplug lifesaving machines as they run out of fuel to power generators. Paltel, the main telecom provider in Gaza, said it had to fully stop communications and internet services.
Follow live coverage
 U.N. Calls for Gaza Fuel Deliveries as Humanitarian Crisis Deteriorates (Watch)
 Pentagon Says Troops Are Being Deployed to Middle East to Aid U.S. Defense (Watch)
2. FTX's Sam Bankman-Fried told jurors he didn't commit fraud.
The cryptocurrency exchange founder testified that he hadn't taken customer money, and said his most significant oversight was not establishing a risk management team. Throughout his testimony, Bankman-Fried defended the lavish spending that prosecutors allege he carried out with stolen money. He has pleaded not guilty to seven counts of fraud and conspiracy over his role in FTX's collapse. At the beginning of Friday's session, U.S. District Judge Lewis Kaplan barred some of Bankman-Fried's proposed testimony about his interactions with legal advisers at FTX, a blow to his defense team. Bankman-Fried is expected to return to the witness stand Monday, when he will likely face a more uncomfortable day under cross-examination by federal prosecutors.
Catch Up on What Happened in Court Today (Read)

From Hamas to North Korean Nukes, Cryptocurrency Tether Keeps Showing Up (Read)
3. Police sent divers to search a local river near the last known location of the Maine shooting suspect.
As the manhunt entered its third day, law-enforcement officers were chasing more than 500 tips. The latest efforts include sending divers into the Androscoggin River near the place where suspect Robert Card's Subaru was found after the shootings that left 18 dead and 13 injured Wednesday. Mike Sauschuck, Maine's public-safety commissioner, said a note had been found at one of the addresses related to the suspect, but he declined to comment on its contents. The Office of the Chief Medical Examiner said all the victims had now been identified. Nervous residents across Maine remained in lockdown, with many schools staying closed.
4. The United Auto Workers union is close to completing a tentative agreement on a new contract with General Motors.
The two sides negotiated throughout Thursday night and into Friday morning, and reconvened in the early afternoon in a push to secure a deal, people with knowledge of the talks said. GM presented an offer overnight that is similar to the tentative agreement that the union struck with Ford on Wednesday, which included a 25% wage increase spread out over four years as well as a return of cost-of-living adjustments and enhanced retirement benefits. Union negotiators were also bargaining Friday with Stellantis, according to people familiar with those talks. Separately, GM's self-driving car unit Cruise suspended all of its driverless operations across the U.S., after regulators in California said the vehicles aren't safe in public and pulled the company's self-driving permit.
Heard on the Street: Ford's Cost Problem Isn't Just About EVs (Read)
5. The S&P 500 entered a correction, as the autumn pullback in the stock market worsened.
The index fell 0.5% today, bringing it down more than 10% from its recent high. The Dow Jones Industrial Average declined 1.1%, while the tech-heavy Nasdaq Composite eked out a 0.4% gain. The yield on the 10-year Treasury note settled at 4.846% after breaching 5% for the first time in 16 years earlier this week. The mood in the market has darkened in October as investors have parsed a wave of earnings results from some of America's biggest companies while navigating a punishing bond rout. Meanwhile, the Fed's preferred inflation gauge rose 0.4% in September from the prior month, the Commerce Department said, but inflation has improved enough recently for central bank officials to hold interest rates steady at their meeting next week.
Philadelphia Lender Nears Rescue Deal After Stock Plummeted (Read)

Investors Like New York Subways. San Francisco's BART? Not So Much. (Read)

Never Mind the 1%. Mini-Millionaires Are Where Wealth Is Growing Fastest. (Read)
 Enjoying this newsletter? Get more from WSJ and support our journalism by subscribing today with this special offer.
 Follow coverage of detained WSJ reporter Evan Gershkovich
The WSJ's Evan Gershkovich is being wrongfully detained in Russia after he was arrested while on a reporting trip and accused of espionage—a charge the Journal and the U.S. government vehemently deny. Follow the latest coverage, sign up for an email alert, and learn how you can use social media to support Evan.
CONTENT FROM: PACIFIC LIFE
Tools for your family's financial security.
Many Americans worry about how they'll secure their family's future. Along with financial solutions like life insurance and annuities, estate plans can help develop a long-term strategy to protect loved ones. According to the National Association of Estate Planners and Councils, 56% of Americans don't have an up-to-date estate plan. Read more about four key documents you'll need to prepare one.
1 million
The number of JPMorgan Chase shares the bank's chief executive, Jamie Dimon, plans to sell, of his current 8.6 million shares. It's the first time Dimon has sold his company's stock, leading to speculation the 67-year-old CEO might be preparing for retirement. A spokesman said that Dimon doesn't have any plans to sell additional shares at this time and that the filing isn't a signal about him preparing to retire soon.
"Mike Johnson has a grace period here…It'll be at least 30 days before we get stabby again."
 —Rep. Thomas Massie (R., Ky.), referring to the newly elected House speaker. For many Republicans in the chamber, all is right with the world, three weeks after the ouster of Speaker Kevin McCarthy (R., Calif), with many brushing aside the existential fears that built during the party's crisis. The question is how long Johnson's honeymoon period will last and whether the party could end up in a similar bind down the road.
"You have to sit there and decide, 'OK do I pay my water bill or do I go buy the amount of candy that I actually know I need.'…The water bill has to come first."
 —Crystal Johnson, a Texas stay-at-home mom who is among those cutting back on Halloween candy this year because of sticker shock. Prices for candy and gum jumped 7.5% in September compared with the same month last year, according to the U.S. Bureau of Labor Statistics.
WSJ's Joanna Stern investigates why her iPhone's battery degraded so much in one year.

PHOTO ILLUSTRATION: ANNIE ZHAO/THE WALL STREET JOURNAL
Check the health of your iPhone battery.
The iPhone 15 will tell you how many times the battery has been fully charged and discharged; for older iPhones, you can use a Mac app called CoconutBattery. The higher the number, the faster your device is likely to lose its charge. Before you buy a new phone, consider installing a replacement battery. It's a lot cheaper (and better for the environment).
 What do Chevron and Exxon's recent acquisitions say about what's next for the oil industry?
We are in some ways back in the '90s, when lower oil prices prompted oil producers to do mega mergers to gain scale. Oil majors and large independent companies are gobbling up smaller rivals to bulk up, as investors reward size and resources become scarce in U.S. oil and gas basins. With Pioneer, Exxon gets the dominant position in crude-rich West Texas; with Hess, Chevron gets a foothold in North Dakota's Bakken shale and access to a once-in-a-generation oil find in South America's Guyana. Expect to see more M&A in the coming months as companies fear being left out in the consolidation race.
 Chevron and Exxon are offloading assets in Africa and Asia and investing more in the Americas. Why?
Exxon and Chevron vaulted to their global status by leading ambitious drilling campaigns across the world. Now, they're retreating as the world becomes more dangerous, and oil politics more uncertain. Exxon, for instance, spent years cultivating links to Russia's Vladimir Putin, only to see its stake in a major joint venture there wiped out by the Kremlin after Russia invaded Ukraine. So, major oil companies are looking westward for safety. In U.S. shale, long the domain of scrappy frackers, oil giants say they can unlock more oil by applying techniques learned abroad and deploying new technologies. In South America, Brazil and Guyana boast troves of oil and gas, relatively stable politics and proximity to the U.S., which makes them attractive places to do business.
 How might conflicts like the Israel-Hamas war affect oil giants' global moves?
The war has had an immediate impact on Chevron's operations, which had to shut down an offshore platform off the coast of Israel. Chevron has been working on making inroads in the region. It supplies Israel's gas to liquefaction facilities in Egypt, and has plans to develop a massive gas field in Cyprus's waters and also provide that gas to Egypt. If Chevron struggles to market its gas, it could slow down its development efforts in the region, where conflicts have delayed energy investments before.
For residents of Salem, Mass., Halloween is a frightening brew of snarled roads, jammed sidewalks and modern-day witches.
Dow Jones & Company, Inc. 4300 U.S. Ro‌ute 1 No‌rth Monm‌outh Junc‌tion, N‌J 088‌52
You are currently subscribed as kh6jrm@gmail.com. For further assistance, please contact Customer Service at sup‌port@wsj.com or 1-80‌0-JOURNAL.
Copyright 2023 Dow Jones & Company, Inc. 

  |  

 All Rights Reserved.